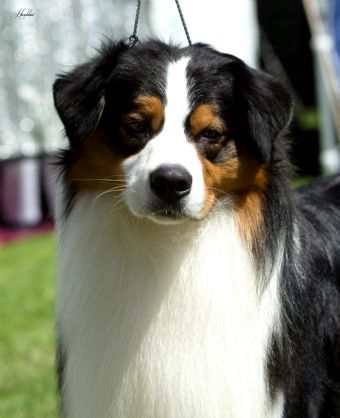 Tolazrun Australian Shepherds was first established in 2004 and we have been involved in Australian Shepherds for approximately 15 years. We have never been in a rush to jump from first time Aussie owner to breeder, preferring to take our time to learn as much as we can about this wonderful breed before taking the next step. During this time we have also created the TOLRAY prefix in partnership with Leanne Rattray and made many contacts with breeders in Australia, New Zealand, the United States and the United Kingdom.
All of our dogs compete in the show ring, obedience, agility and all are tested on livestock. As you can imagine, it takes a lot of time to work, train and compete in these forms of dog sports and activities, consequently we will only ever have a small number of dogs ourselves because each dog is given individual attention and is part of our family.
We will never be a prolific producer of Australian Shepherds. We will only ever produce a litter when we want something to keep for ourselves. Our goal is to produce dogs that are both sound in structure and temperament. What first attracted us to this breed was their versatility and their wonderful temperaments. This along with correct structure is the goal of our breeding program.
Tolazrun Australian Shepherds will always put quality ahead of quantity. So if you would like to buy an Australian Shepherd from us you may need to wait a while and we are very choosey as to who we will sell a puppy to. Don't be surprised if when you visit us you feel like we are interviewing you, we are, but in the nicest possible way. Australian Shepherds are working dogs and are not for everyone. Purchasing a dog is a 10 to 15 year commitment and we want to ensure that we can match our puppies up with the right owner(s).
Martin is also a Junior Handler judge as well as an authorised DNA collection officer as well as the immediate past President of the Australian Shepherds Association of NSW, while Heloise was until recently the editor of the Association's newsletter.