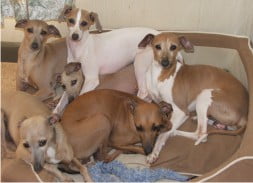 Many years ago my journey within the dog world began with a deaf Border CollieX puppy that came into my life. She lead me into the world of competition obedience and agility. Now many dogs later I have found an interest in 2 breeds within the conformation and breeding world. Our aim, with both our breeds is to produce sound puppies with outgoing fun loving temperaments that will be suitable to both pet and performance homes.
Our first venture into belonging to an Italian Greyhound came about when my son David fell in love with the lovely Canmio Italian Greyhounds. Buffy came to live with us not long after She has proven to be a wonderful addition to our family. She is sound in temperament, has lovely movement and is so much fun to train. Our first litter born early 2008 produced the lovely ChTahrae Hot Summer Nites, 'Grace' (pictured below left with her brother and sister) who is proving to live up to our expectations for temperament and conformation. Grace became our 1st home bred champion in October 2009
In 2009 we had the opportunity to introduce to our kennels the lovely 'Pete' Ch Shantiah The Power OLove. Pete has proved to be a real clown and has fitted into our family wonderfully, he has adapted from being a kennel dog to a house dog with ease. He has now started his agility training and is loving every minute of it, is smart, fast and confident around the equipment. He will be my first small dog in agility (measuring at just under 365mm – 14 1/2 inches – to fit into the 300mm jump height) and I am looking forward to the new learning curve of handling a small dog at competition level.
Rarely shown prior to arriving here in Victoria, 'Pete' gained those elusive last few points for his Ch title on the 13/11/2010
Our next addition is Ch Tahrae Step Back In Time 'Sophie' from our 2nd litter from Ch Canmio Da Chosen One 'Buffy' and 'Pete' Shantiah The Power OLove from a lovely litter of 4 girls born on the 21st January 2010. Sophie titled easily at 13mths with some exciting wins at breed level and consistent class in group wins along the way.
My first Aust Stumpy Tail Cattle Dog came to live with me in 2007 not long after losing my 15yr old Aust Cattle Dog. 'Casper' Aust Ch Studholme Mallee Ghost has been a joy to have around.
She has a fun loving personality, with a very big sense of humour. She is a quick learner, although yet to start her agility trialling career (mostly due to lack of time on my part) but does at times give me that typically stumpy tail attitude. She is fantastic with the little dogs and a great companion to the German Shorthaired Pointers who are also part of our family.