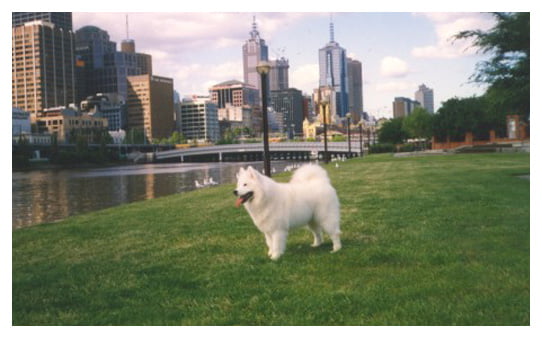 I hope to show you the many attributes of this beautiful breed that captivated me as a child and still captivate me today, many, many years on.
I shall show you a little of the history of the breed, a little about myself and Aldonza Samoyeds, some of our many Show Champions, and of course how wonderful they are as companions and pets.
I hope you enjoy perusing this site as much as I have enjoyed putting it together for you.
My name is Fay and I live with my long time partner Peter on 5 acres in the semi-rural eastern outskirts of Melbourne, Victoria not far from the Yarra Valley wine region. We have numerous Samoyed dogs, 2 cats, a friend's horses and plenty of local wild life including beautiful coloured parrots, possums, ducks, rabbits and the occasional kangaroo.
Samoyeds are an active, agile, intelligent dog. Needing regular exercise they very much enjoy the time you spend training them. The are born "show offs" and "clowns".
Aldonza Puppies are raised in a home environment and are socialised from birth with children, other dogs and cats.