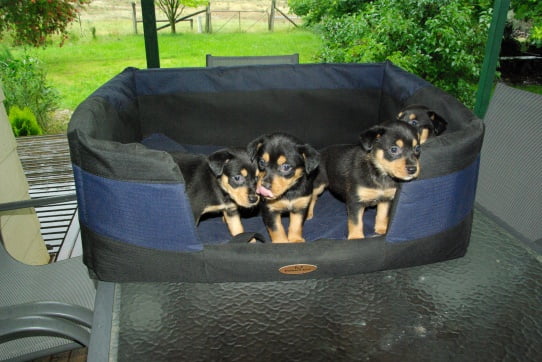 The Noonbarra Kelpie Stud is a small, family run, Australian Working Kelpie Stud in NSW. Australia. We are one of the longest established breeders and very well respected, both in Australia and internationally. The Noonbarra Stud is fully registered with the Working Kelpie Council of Australia. (WKC).
Over the past 30 years, Noonbarra Kelpies have become one of the best known and most successful Kelpie Studs in Australia, despite us only breeding small numbers compared to many of the large Kelpie Studs.We have always preferred to stay a small Stud and keep everything hands-on just by our family to ensure we get the quality we want.
Over many years of breeding these wonderful dogs, our Noonbarra Kelpies have been very successful in nearly every field of endeavour, including, Yard Dog Trials, Obedience competition, commercial mustering wild goats, TV & film work, Droving work, Frisbee competitions, Therapy dogs, Agility competition, Arena three sheep dog Trials, Rescue dogs, Cattlework, Flyball, Utility Sheepdog Trials and more….
We have sold our Australian Working Kelpies all over Australia including Tasmania, Western Australia and Northern Territory as well as around the World to countries that include Sweden, United States of America, New Zealand, Belgium, Norway, Hong Kong, Croatia, Japan, Canada, Italy, Switzerland, Russia, Singapore, Hungary and Germany.
Our family has been associated with breeding and training Australian Kelpies for over 90 years. We are 3rd generation family of breeders & trainers. We are authors of five books on dogs. Stephen also works as a professional dog trainer and behaviourist on all breeds. We still breed on the best of the old Kelpie bloodlines and all our dogs go strongly back to the renowned Kalari Kelpies and are direct descendents of the great Kelpies of the 1800's such as Quinn's Coil, Tully's Moss and Gleeson's Kelpie.
The Noonbarra Kelpies are renowned for being extremely versatile and have proved themselves to be exceptional dogs with Cattle, Sheep, Goats, Alpacas and other livestock on farms and Stations from as little as 2 or 3 acres to more than 1,000,000 (million) acres!
Our Kelpies have also increasingly been sold as wonderful companions to families in cities and suburbs where they have excelled as faithful, loving … and often a little spoiled, pets.