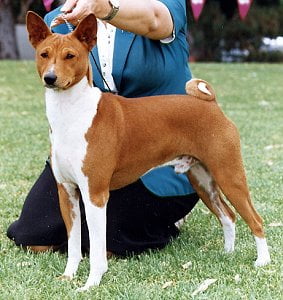 MZALIA is the Swahili word for "native" – so what an appropriate name for a kennel dedicated to the breeding of these remarkable little African dogs.
Mzalia Basenjis was founded in 1995 by Karen and David Hyland, and is located in Two Wells, approximately 40 north of Adelaide, the capital city of South Australia.
All of our kids have spacious yards to run and play in during the day, and come inside in the evening so that we can spend quality time with them.
We are proud to have bred basenjis that have been successful in showrings around Australia, not only for ourselves, but for other exhibitors as well – and many of our dogs are now proving themselves to be successful producers as well. We are also very proud of the achievements of our recent exports to Norway, both of whom are multiple Best of Breed winners and are very close to attaining their Norwegian titles.
But just as important to us are all of the dogs we have placed into loving pet homes.
All of our breeding stock are DNA Clear/Normal for Fanconi, or are the progeny of two DNA tested Clear/Normal parents.