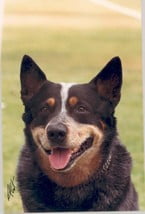 The Australian Cattle Dog
The Australian Cattle Dog is the official name given to dogs known as Blue Heelers, Red Heelers, Australian Heelers or the Queensland Blue. They are a tough, courageous and intelligent working dog with a strength and endurance unlike any other dog its size.
These dogs have many wonderful qualities, they are cattle herders, bred to work hard in the roughest of Australia's terrain. As a pet they also have many other desireable qualities including loyalty and protectiveness although are not suited to be left in the back yard to amuse themselves.
History of the name "Mageela"
Mageela is a word derived from the aboriginal language in the Arnhem Land region of the Northern Territory of Australia. It came from a billabong/water system that ran through Mudginberri Station where Joy, the owner of Mageela Kennels, spent seven years of her life. This is where Joy first started to breed Australian Cattle Dogs in 1981. She moved to Canning Vale, Perth, in 1991.
Other/Products
We are W.A. stockists of Get Up and Go! the all natural revitalizing Superfood supplement for older dogs. We are currently using this product on some of our much older dogs with very pleasing results!