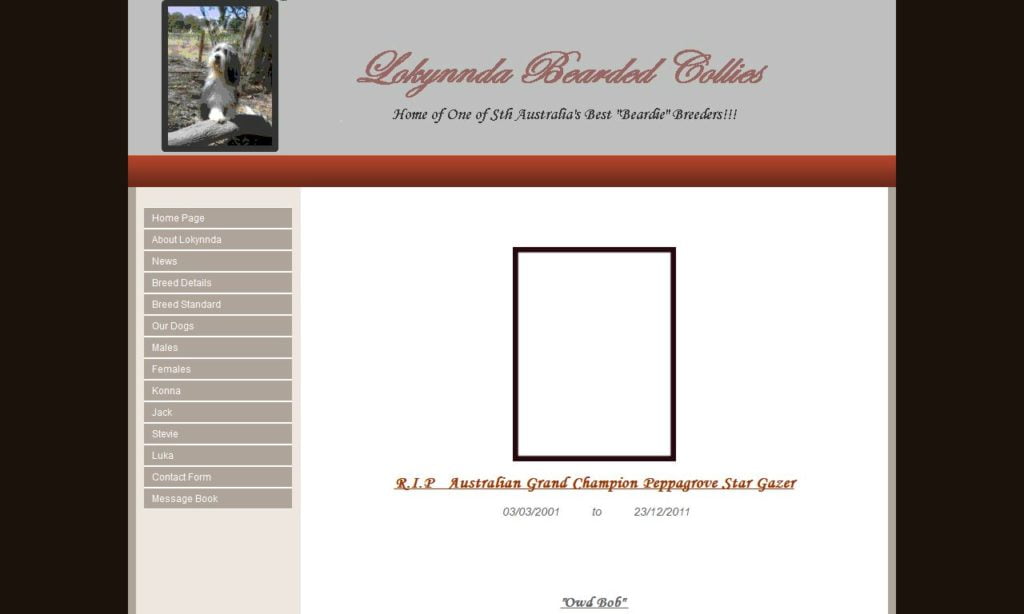 My name is Lynda Webb, and I live in a small town just north of Gawler, called Hamley Bridge. I emigrated to Australia from the UK in 1971, and one of our first acquisitions as a family was a good old "Heinz 59" mixed breed which had resulted from an "Oooops" from a neighbour (probably now called a designer dog!!)
I had always had a love for the Irish Setter and decided that I wanted a show dog; (evidently it runs in my bloodlines as one of my ancestors won Best In Show at Crufts – the Worlds Largest Dog show held annually in the UK – with a bulldog!!)
I owned and bred Irish Setter's from 1974 through to the mid 80's. I was then the first person in South Australia to show Flat Coated Retrievers; a breed remarkably like a "Beardie" in temperament. However, owing to some serious genetic breeding problems I became rather disillusioned with the ethics of the dog world and gave away dog shows for about 15 yrs.
During this time I did my training and became a sports trainer, and spent my leisure time amusing myself with being an Obedience Instructor with Northern Districts Kennel Club.
I went to an Obedience Trial one day and was entranced by this beautiful "Beardie" called Buddy!! It was at that moment I fell in love with the breed! Unknown to me the lady that I was then doing voluntary work for, Lorraine Smith, had a litter of Beardie puppies, and that's where my life as a Bearded Collie breeder began!!!
Lorraine allowed me to purchase a slate puppy who I named Konna and I started showing again, realising how much I still enjoyed being competitive!!! Konna proved to be an excellent specimen of the Breed and has over his time, won many accolades including;
Best In Show (B.I.S.) at an All Breeds show
Challenge Dog (D.C.C.) & Reserve Challenge Dog (Res. D.C.C.) at both the Adelaide Royal Show and the Bearded Collie Club of Victoria.
Then his crowning glory, achieving his Australian Grand Championship title at 5 1/2 yrs old!!
He is now in "retirement" having retired at the age of 8 1/2 yrs old; from the Show Ring, and enjoying life as "Lord of the Manor"!!
By then, I had decided that I would like to have a litter of my own and I acquired Xanthe from Qld breeder, Lynn Nielsen.
Xanthe duly obtained her Australian Champion Title with many in group wins along the way at the age of 2.I mated Xanthe with Konna and from that first litter came my girl Stevie (Ch Lokynnda Playing With Fire) and Ramsay (Ch Lokynnda Hot Highland Warrior) owned by Steve and Raelene Dudley.
The story goes on, with the next chapter happening now, with Stevie's first litter due late January.
Anyone wishing to enquire about gaining one of this litter, or any other questions regarding the breed, please feel free to contact me, either via the email address below, or via my mobile.
Also, find information regarding the care and maintenance, and joy that a Beardie can bring to your home on the information page that we are currently writing, and hope to have up live on the website in the very near future.
You see in owning a "Beardie" as we so lovingly call them, you own a best friend, a mate, a partner, a mischief maker, and a wistful playmate who brightens your day with "talking to you" and telling you just how they are!!!!