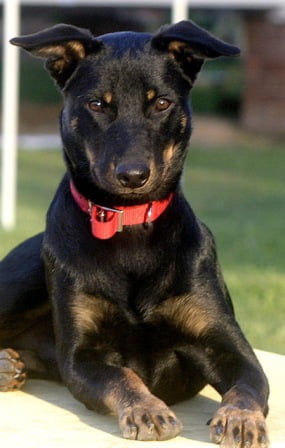 I have been involved with Kelpies since 1984 but am relatively new to breeding, with my first litter born in 2005.
It all began with my first puppy 'Stubby', a little red Kelpie cross. He got me started on my Kelpie journey. Unfortunately, due to family circumstances, I had to give him away in 1989. It would be another 2 years before I got the dog that really cemented the future of Kelpies in my life…. Glendalock Fair Dinkum (MAX).
After almost 2 years of researching breeders of Kelpies, I got Max in 1991. I wanted to show. However, Max ended up being incorrect for the show ring so I turned to obedience and agility.
In 1998, I decided to find another Kelpie for my agility pursuits. In 1999 Denny (Oatland Australian Maid) was born. Over her career, Denny achieved 18 titles, she has also represented Qld at Agility Nationals, been awarded SEQ Agility Dog of the Year and most recently, attained her 101st Masters Agility Qualifier and earned her retirement from Agility.
It wasn't until 2002 that Kip (Oatland Say Gday) who is my foundation bitch, came into my life. She has had some lovely puppies, none of which have ever competed. They are wonderful family pets and companions to owners both here in Australia and overseas. Kip also competes in Agility. She won the 2004 Open Agility Class at the Brisbane Royal and has represented Qld at a Nationals in 2008 and now has 16 titles to her name.
In 2004, Ted (Luack Son Ofindi) came to me from Luack Kennels in Townsville. Ted is a Dual Registered Black & Tan dog that I have now put over Kip for her third litter (born 9th April). There have been many 'interesting' comments made about this pairing but I am happy with the lovely athletic puppies that will hopefully put Keldapark on the performance map. I have kept one of these puppies for the 2014 National Agility Titles to be held in Brisbane. Unfortunately, I lost Ted to a car accident in July, 2010.
This litter created two lovely kelpies: a black dog, Bingo (Keldapark Toucho Class), who is absolutely magnificent and his sister, Top (Keldapark Gold Class) who is a stunning red bitch who typifies the Kelpie breed and is a truly beautiful example of what a Kelpie should look like.
My aim is to breed top quality Australian Kelpies for show, performance and companionship while staying true to temperament and type . Kelpies are an all-round performer and are quite capable of excelling in all disciplines.
As a rule, I usually only breed a litter every 12-24 months. This ensures that each litter receives all the attention and stimulus they need to become well-adjusted family members. I try to expose them to as many different sounds, sights, smells and situations as possible. Kelpies are active, loyal, trainable and versatile. Once you've had a Kelpie in your life, you will find it hard to have any other breed.
I am also studying Veterinary Naturopathy and, having used natural products for many years on my own dogs, I have developed the first product in my own range of products:
The first product in the range is the Canine Multi-Vitamin Mix (aka The Green Powder). I will soon be adding The Dog's Dinner which is a frozen 'complete meal' that is simple and easy to feed and The Vegie Mix, which is a frozen vegetable mix. I am now working on a dog shampoo with products known to kill fleas, clean skin and soften the coat.
I have several products currently in the R&D stage. Once I am happy with the product contents and efficacy, I will be releasing information on these products through this web site.
I have seen first hand the advantages of feeding an all natural diet with my own dogs, and they have proven to me time and again the benefits of the products I am producing and promoting.