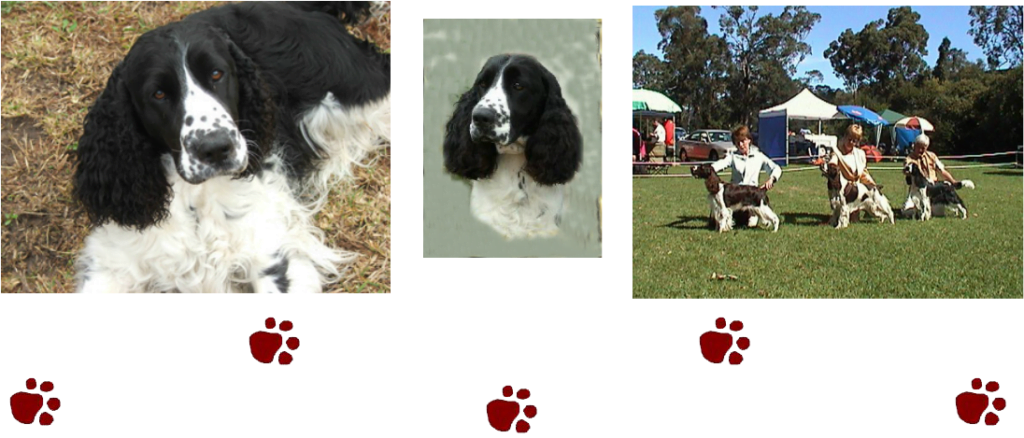 We are fairly new to the breed of English Springer Spaniels over the last ten or so years. I have loved the breed from as early as I can remember. Although as a child my family did not have any Springers. We had a German Short Haired Pointer, called 'Sheba', and a Miniature Fox Terrier, called 'Midge'. My father had the dogs for hunting. As children growing up our four legged friends were most fun!! Both these dogs loved to go bike riding. Yes, bike riding!! On an old 10 speed racer (with the curly handle bars). On the front would go a carry basket for 'Midge', on the back rack, a box for the GSP. Down the laneway we would go as fast as we could. The dogs never fell off, only held their heads in the wind and enjoyed the ride. What fun they were, what great memories I will always have. I also remember the field work, out hunting. Not many now days get to experience this. Growing up with dogs was the best experience and is still the same for today and for my own children (only they don't take the dogs on the bikes).
While living in Townsville I purchased my first Springer 'Belle' (French for beautiful, of which she was). However she did not turn out to suit our family. She went to a wonderful forever home that already had an English cross Welsh Springer. Belle now enjoys a wonderful life of beach walks each morning and lazing around a beach house each day. What a life!!! Our second Springer 'Eddy' came to us shortly after. What a different dog from the first. A beautiful liver and white boy. What a lovely nature he has, however is much above the standard height. We detected an elbow problem at 4 months and had him desexed. He now is just a wonderful member of our family.
Next came 'Taxi' our first show dog. She is a beautiful black and white bitch from the 'Ardenlee' Kennels in Brisbane. She has a wonderful nature, outgoing and a treasure to have around our home. By showing 'Taxi' it has allowed us to meet other wonderful dog lovers and Springer people with the same love for the breed.
Slowly we are building our own show team and have had our first litter in October (2005), which has proven to be a very successful litter indeed. We are learning as we go and have had wonderful help and guidance from those experienced with the breed.
Springers in our family!
English Springer Spaniels are very much family dogs. They love the company of humans. Being left to their own will in the backyard is not a desirable life for this breed of dog. Although many families or people have to work or go to school, not every minute of every day can be spent with the family dog. It is therefore important to spend as much free time with your loving friend as possible. They will become used to your routines and adapt to them as long as time is devoted them at some stage. I have found by keeping more than one precious little furry friend in the backyard will ease the separation and loneliness that may occur when you are not there. Spending time throwing a ball, a squeaky toy, or taking them swimming allows you to really get the know what will be one of your most loyal friends you will ever have. In return their only wish is for a hug, a pat, a conversation (yes, we do talk to our dogs), a drink, and of course FOOD!!! My Springers love to EAT (I have not come across who don't!).
What do we feed our dogs?
Our dogs are fed on Premium dog kibble (Advance or Nutro Choice) combined with sardines or fresh meat available from Produce Stores and butchers. I prefer to use a turkey, lamb or sea food as the protein base in foods. We also like to give our dogs fresh bones (marrow) and chicken wings.
Keeping your friend in top healthy condition is vital, even if they are pets!! I have also found some products that contain dyes in the food tend to stain my dogs a reddish colour under the chin, under the arms and crotch area. Thus, it is important to make sure that the foods you feed your friend DO NOT contain dyes. Make sure the food is natural and you know what is in it (you would not feed dyes to your children!). Remember, like humans, not all dogs are the same and thus need to be considered on an individual basis.
What do we groom our Springers with?
We love to use Animal House products. They do not contain silicon and wash out easily. Between shows we use Tender Care (green), dilutes and goes a long way, making the coats soft and easy to work with. We also use Leave in Lusture and make the 'Mixture' out of this to condition the coats further. Check these products out, easy to use, comes concentrated so lasts longer and is affordable.
Educating Children!
Our Springers are very much apart of our family. They are raised with our children who are taught to respect the dogs. When at dogs shows, our children learnt to approach dog owners first to seek permission before approaching a dog and have learn the correct way of introducing themselves to the dog. I have found this type of dog education and awareness regardless of being a child or adult is important in public environments, especially where unknown dogs may be around. Not all dogs like children for one reason or another and prevention is better than cure – Accidents can be avoided! Animals are wonderful parts of nature and should be enjoyed, not feared, or fear created by the ignorance of others!! However, the English Springer Spaniel breed is a loving, loyal and energetic dog who can tolerate quite a lot of play!!!
Springers make great security alarms!
Springers make wonderful security alarms around the home when unknown people approach your property!!!! We have never been broken into whilst we have had dogs and I believe it is due the presence of our beautiful four legged friends.