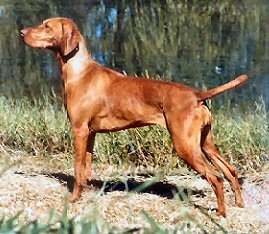 In 1973, at the Budapest CACIB dog show I came across 'Amy' – Amy Cierna Voda – my first Hungarian Vizsla (wirehair) and my love affair with the breed began. I was still completing my studies and couldn't afford to purchase a pedigreed dog, however my eagerness impressed the breeder, Vendelin Schultz, and we ended up taking 'Amy' home on a breeder's term arrangement. Thankfully, Mum gave her approval and agreed with my choice this time, not like in the past, when I collected stray dogs and took them home… My interest in showing was encouraged by my cousin Marcze Janos, who later founded the famous Vom Golf Dachshund Kennel.
'Amy' and I lived up to expectations. She had a good show career, always winning "excellent" grading, such as 3 x CAC & Res. CACIB's & Res. World Champion. She proved to be a good brood bitch producing lovely puppies under my "Oregbuda" prefix. 'Amy' was mated back to her famous grandfather Bk Hun Ch Botond Orkan Rex, who was a dominant producer. His bloodline can be found in most wirehair Vizslas' pedigrees in Hungary.
In 1976, I entered 'Amy' at the World Dog Show held in Innsbruck, Austria, which eventually led to my freedom. Leaving communist Hungary, 'Amy' and I travelled throughout Europe for nearly two years while my immigration documents were being processed.
It broke my heart, when I had to leave her behind in Istanbul, due to the strict twelve months plus quarantine regulations in Australia. I found 'Amy' an ideal home with a wealthy family whose passion was hunting and the Hungarian Vizsla was the only breed of gundog which they had not owned. 'Amy' spent the rest of her life doing what she liked most, hunting.