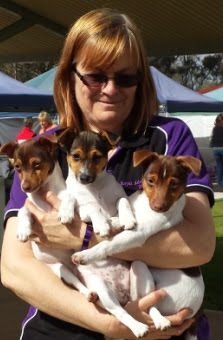 Gumhaven Kennels is situated in Dublin 60 km north of Adelaide on the Adelaide Plains. Dublin is my husband's hometown and I moved here in 1990 with him. We have been together since 1978, Merv had Tenterfield's when I met him, then known as Miniature Fox Terriers and the rest as they say is history, so we have had them over 35 years now.
I have been a member of the Tenterfield Terrier Club of South Australia since 1994, on committee since 1996 and President of the state club from 1999-2002. I had a break for a couple of years and then was re elected President. I am also President of the National Tenterfield Terrier Club (Aust).
I have been a member of the South Australian Canine Association since 1998. When I started breeding with the Tenterfield Terrier club I chose the kennel prefix Blue Gum but later changed that to Gumhaven, as I could not keep the name Blue Gum under the South Australian Canine Association. I breed with only my best bitches and carefully choose a stud dog. I take a lot of things into consideration; conformation of both dog and bitch, the two must compliment each other, temperament, being a proud and confident dog.
Our dogs are free to roam our block by day and are put in kennels with quite large runs at night for their own protection mainly. I would hate to find that a big dog had managed to get into our yard overnight or that someone had stolen one.
I love the fact that they all mix well together; I haven't had the need too separate any. Males and females they all run together by day and sleep together at night. My 8-week-old puppies are also let out to join in with the adult dogs.