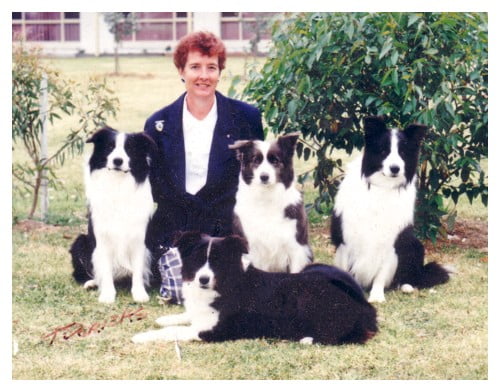 I fell in love with Border Collies when I was young. My parents had a Border Collie by the name of PRINCESS aka REBUTE PRINCESS who I decided to train in the obedience ring and I had the pleasure of training her until she gained her C.D.X title (Companion Dog Excellent).My first very own Border Collie was purchased from Nartanda Border Collies and was named BOBBY aka NARTANDA THE BEAR. BOBBY was bought to be shown but his show career, while it was very successful, was only very short due to an accident at the age of only 9 months which resulted in him having his front leg amputated.
When BOBBY was shown he won numerous Best Headed Dog awards at the Specialty Border Collie Club Shows. BOBBY still attended the Border Collie Club shows at an older age and was entered in the veterans class. He used to hop around the ring and enjoy every minute of it!
I then tried obedience with BOBBY but he found the 2 heeling patterns in the novice trial ring too much on his poor 3 legs. BOBBY had a lovely happy life until he was put to rest at 13 years of age.I then purchased my first Border Collie bitch from John and Leanne Birch of Crystalledge Border Collies. LACE aka AUST. CH CRYSTALLEDGE CHANTEL C.D.lACE did well in the show ring gaining her Championship title as well as her C.D (Companion Dog) title in the obedience trial ring.
I was now ready to breed LACE who was my foundation bitch at FEDORLACE KENNELS and she was put to my beautiful 3 legged boy (3 legs did not stop him from being a stud dog) BOBBY in 1987.
I then expanded FEDORLACE KENNELS in 1989 by purchasing ROBBIE aka GRAND CH KENNOWAY TARTAN TERROR from John & Joyce Sullivan from Kennoway Kennels.
We did not choose ROBBIE'S name and on his arrival our poor 3 legged boy BOBBY was getting confused when we called ROBBIE, so BOBBY was renamed to BEAR which luckily he responded to very quickly……
ROBBIE came to us at the age of 12 months from Kennoway Kennels and on stepping out into the Sydney show ring did us so proud by becoming a MULTI BEST IN SHOW WINNER!LACE'S second litter was to ROBBIE and was a beautiful sound litter. Out of this litter 3 of the dogs became Australian Champions and won multiple class in group and show awards.From this litter we decided to run on a bitch and it was not hard to decide which one! She became my own first FEDORLACE bitch. She was blue and white in colour and we named her SKY aka AUST CH FEDORLACE TRU BLUE TARTAN. SKY was mostly shown by more daughter and accumulated over 500 challenge points which was excellent for a coloured dog.
SKY'S litter brother CHESS aka AUST CH & AM CH. FEDORLACE THE PROCLAIMER also obtaned his Championship Title and then moved to the U.S.A with his owner Karen Hall and gained his American Championship Title also.
SKY was bred twice and dogs from both of these litters have gone on to add to the Champions list of FEDORLACE KENNELS and both havingtitles at both ends..
I have also been very involved with obedience for many years and am an obedience instructor and judge. This side of the dog worldwide took up alot of my time and I decided to give up breeding for a while.I then fell in love with the Australian Shepherd breed and I did some investigating…..click on "THE AUSSIES" link below to read about my Aussies.