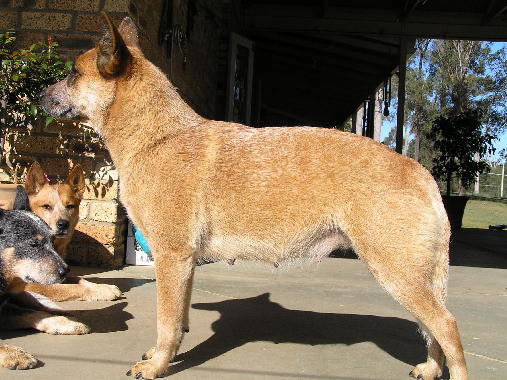 We live an hour and half west/ north/west of Brisbane. Brisbane is the Capital of Queensland Australia.
Australian Cattle Dogs are working dogs, they are tough, intelligent and have a loyality that can get them into trouble sometimes. They are not a dog for everyone and must be stimulated or else they can become a real pain in the butt. Their devotion is unquestionable, they are a big dog in a medium package.
Goodbye 2007. . . All of our "Just Litter" have been in their new homes. for almost a year. I will be posting some new pics in the next short while.
Lots of goals were achieve in 2007. We have just purchased a neighbouring property to our Lower Cressbrook 260 acre property… January 14 will see another 160 acres freehold + 1,100 lease hold grazing added to our home. .
Herding is our main dog pastime now days. 2007 has seen even more developments in ANKC herding here in Queensland with a rules review which will be implemented in 2008. We will continue to promote and develop herding within our wonderful Cattle Dogs.
We are just waiting on Ochre to come into season (December 2007) and we will be mating her for the last time. She will be mated with a Victorian dog. If you are wanting to register your interest in a puppy please email diggaden@bigpond.com Subject: Puppy Enquiry.