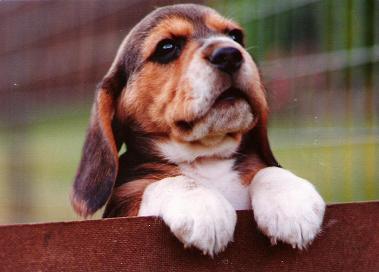 Robyn Robertson (Pearson) commenced Darkfelt Beagles in the late sixties in Queensland. Having purchased her first beagle and entered the show ring in 1966, the Darkfelt prefix was born in 1968. In 1969 Robyn purchased a puppy from Victoria bred from two imported Rozavel beagles, (Aust Ch Rozavel Diamond Star and Aust Ch Rozavel Happily) and another from New South Wales bred from Aust Ch Wendover Jeremy (Imp UK).
Aust Ch Braelea Boundlass (Jaunty), and Aust Ch Dillwynia Don Juan (Jerry) were extensively shown in Queensland and were constant In Group and In Show award winners.
Jaunty produced two litters in the early seventies, one being sired by Aust Ch Balansheen Backchat. From that litter we kept Aust Ch Darkfelt Scotsman. (Jock)
In 1976 we bought a puppy from Thelma Gray's (Rozavel) first litter in Australia. The litter was sired by Am Ch and Aus Ch. J Dons Salt of the Earth of Rozavel (Salty) from Rozavel Matchbox.(Anna). Rozavel Saltbox (Briny) joined the clan and together with our other beagles provided the foundation of the stock we have today.
Jock and Briney produced Aust Ch Darkfelt Tristan, a consistent winner, and Aust Ch Darkfelt Isolde.
Isolde had a stunning win as a puppy, aged six and a half months, winning Best In Show at ASKC in 1978 under Judge Miss Jane Harper from the UK.
We have over the years looked for and found other beagles with links back to Rozavel for breeding.
Darkfelt beagles still follow the style of Rozavel and are bred for type and quality.