CROZIER German Shepherds & English Cocker Spaniels
Dog Breeders / 338 views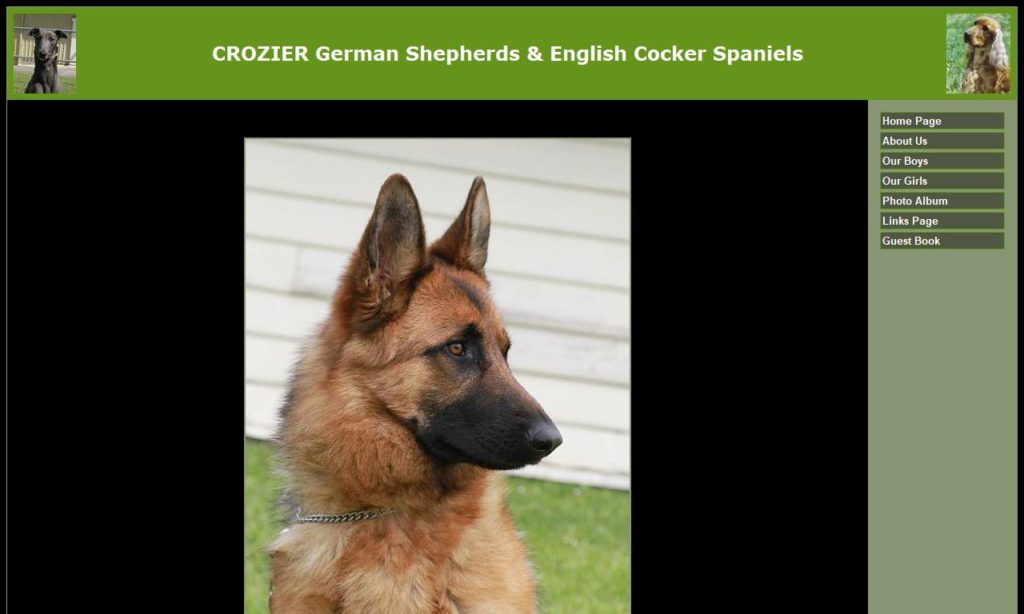 It all began in 1982 when I purchased my first cocker pup from Penny Retter of the "Spandool" prefix. Spandool Show Girl, "Sasha" was no winner but it was she that led me to the world of showing and my prefix "Crozier".(Meaning: Shephard's Staff)
I had other Cockers during the years 1982 – 2001. During this time my father gave me a Blue roan boy, Lakanuki Kirk Douglas (Rambo 14/6/90 – 20/4/04). A few years later I bred a Red boy, D CH (T) Crozier Engage Jhon Luc CDX ET (Jhon Luc 08/5/95 – 11/11/05) whose Dam, Toorack Gold Star CD (Beauti 03/5/93 – Dec2000) was put to Lehearn Look Whos Talking (Morgan). Jhon Luc was the only pup in the litter. A Light Blue girl, T CH Crozier Tasha Yar CD (Tasha 18/10/1999) came to me after I mated her Dam, T CH Voyelle Maja Keyrah (Keyrah 02/12/97) to CH Lachlana Make Believe (Sweep).
Then in February 2001, I met my best champion boy, Brad Vincent, since then we have campaigned both boys to their Tracking championships thus making them both Dual Champions (T) and Keyrah to her Tracking Champion title. Tasha has also Gained her T CH title and she has also claimed Brad as her one and only master.
We wish to thank Edna and Sid Flynn for allowing us the privilege of marrying Beauti to Morgan (Jhon Lucs's sire), because without Morgan we would never have had our beautiful Red boy.
Thanks also to Diane Ross for breeding Keyrah and Trek and giving us the privilege of having the girls.
After a long search we finally purchased our first Greyhound, now named Croziers Choice (CC) and not long after we acquired our Feral (Afabad Riverdance 29/4/05).  Both greyhounds have their show title and are now working on their tracking titles.
This year, after a long break, we have brought to Crozier a wonderful German Shepherd girl all the way from Grundelhardt SA.  Thank you Peter and Jenny.