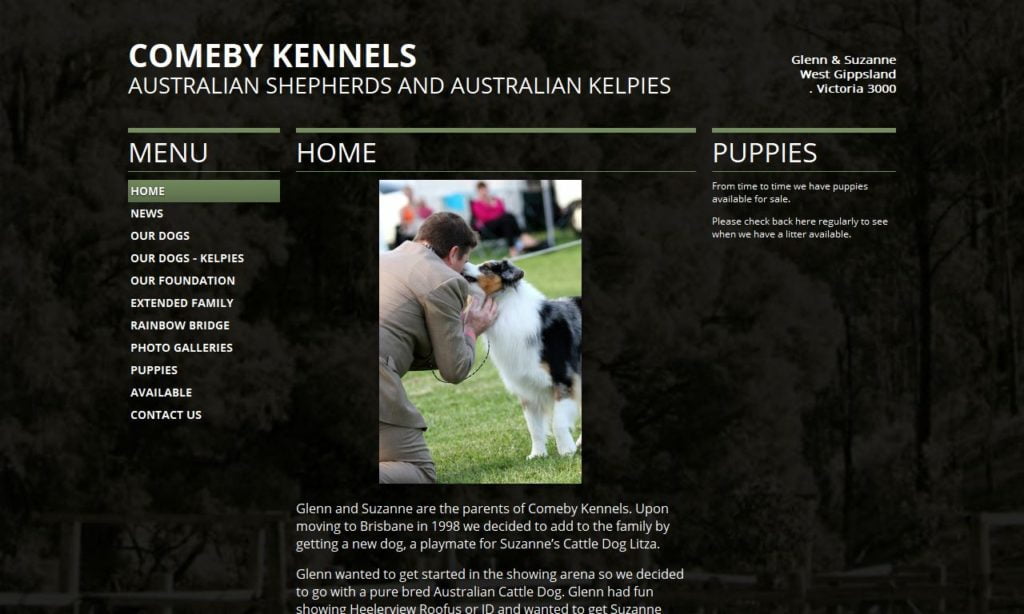 Glenn and Suzanne are the parents of Comeby Kennels. Upon moving to Brisbane in 1998 we decided to add to the family by getting a new dog, a playmate for Suzanne'¬"¢s Cattle Dog Litza.
Glenn wanted to get started in the showing arena so we decided to go with a pure bred Australian Cattle Dog. Glenn had fun showing Heelerview Roofus or JD and wanted to get Suzanne involved so they could share the experience and spend time together, however Suzanne was not interested in showing Cattle Dogs. Not long later Suzanne fell in love with Australian Shepherds.
Glenn had attended his first herding day with JD and not only got addicted to herding but also met our VERY good friend and the breeder of our foundation Australian Shepherds, Karen Sherlock.
Karen has been our mentor in the showing and breeding of Australian Shepherds and has taught Glenn so much about herding. Our Australian Shepherd'¬"¢s are from Karen'¬"¢s Tillsun and Mazasuka prefix.
We are grateful for Karen'¬"¢s continued assistance and also for entrusting us with her beloved Cappy (Meshlacon'¬"¢s Hot Cappucinnio).
It was also thanks to Karen that we were introduced to the Australian Kelpie. Suzanne often would '¬Ã…"borrow'¬ Jack (Mountainmist Mandingo) to take to shows and we were fortunate enough to have both Jack and Sally join the family soon after.
For those who are wondering, Comeby Kennels, pronounced Come-by, is actually a herding command. At the time we were deciding upon our breeding prefix Glenn had become hooked on herding. Given the breeds we were campaigning (ACD, Aussies and Kelpies) were all bred to herd, we decided we wanted to have that reflected in our breeding prefix.
Look out for the Comeby kids in a show ring, agility and obedience trials, herding events and most importantly as part of a loving family.