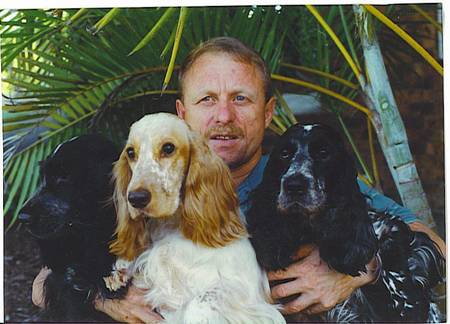 My name is Sue Bruno, and I live in Brisbane with my husband John , 7 Cockers and a German Shepherd who thinks she is a large Cocker.
I have a 34 year old daughter, Kylie, who shares my interest in dogs. Kylie is one of the Top Handlers in Australia in the German Shepherd specialty ring, possessing that magie touch with any dog she handles. She is much sought after for her handling skills.
In my earlier years I too, was very involved with German Shepherds and I am a National Council recognised specialty Judge for the breed. A photo of me (in my younger days) can be found our our 'Photos' page, with one of the many winners I handled. Of course I was a lot thinner and fitter in those days.
I still have a minimal interest in the Shepherd world but my heart now, and always will be,with my beloved Cocker Spaniels.
Here at Cobalt, to date we have bred 8 Champion bitches, 3 Champion dogs and 1 Australian Grand Champion dog. I am so very proud of the show ring success my homebred dogs have enjoyed.
Our first import arrived in 2004 – many thanks to Gunnel of Cockados in Sweden – and our sweet boy 'Timmy' is owned in partnership with my amazing friend, Helen Fitzgeralds of Candlewind Kennels (www.dogs.net.au/candlewind).
Our current show team is full of promising youngsters, who we hope will continue to carry on the winning tradition at Cobalt. We are very fortunate to have strong breed type, combined with fabulous tempraments, and we now have puppies we have bred being exhibited in both Qld and Interstate.
We hope that our future breeding program will produce many more quality Cocker Spaniels to carry on the winning tradition now laid here at Cobalt.