Angel Ashes - Pet Cremations and Memorials
452 views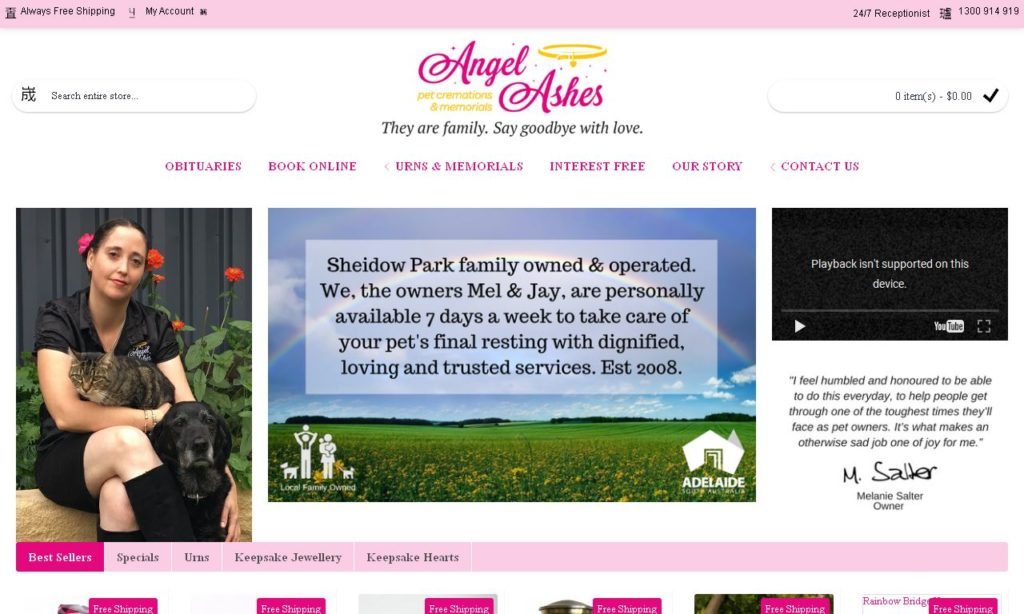 Angel Ashes is run by Melanie & Jason Salter – both animal lovers and caring pet owners. Jason joined Angel Ashes in 2011 and since then he and Melanie have married and started a family together.
Angel Ashes was founded by Melanie Hyland and Faline Williams in 2008 after their individual experiences of loss left them seeing a real need for opening a caring and personalised pet cremation service.  Faline retired from the business in 2011.
After a negative experience with a pet cremation service, Melanie was left holding an urn containing ashes she could only trust were those of her beloved fur-angel, Oakley-Bean. Her sense of peace shattered,  Melanie wanted to provide pet owners with the comfort that had been taken away from her.
In Faline's rural home town there were no services that catered to the passing of beloved furry family members. Therefore, she was forced to bury her darling fur-angel, Sukie, with the heartbreaking knowledge that she would be leaving her behind when she moved away. Faline wanted pet owners to have the range of options that were not available to her.
After being rescued from an animal shelter by Melanie and Faline, Dobby the shop cat came to live at Angel Ashes in order to provide cuddles and smiles to those in need. When the Angel Ashes shop in Portland closed it's doors in 2011 – making the business purely mobile and more personal. Dobby the shop cat came to live at the home of Melanie and Jason, where he has many other fur-brothers and sisters to keep him company.