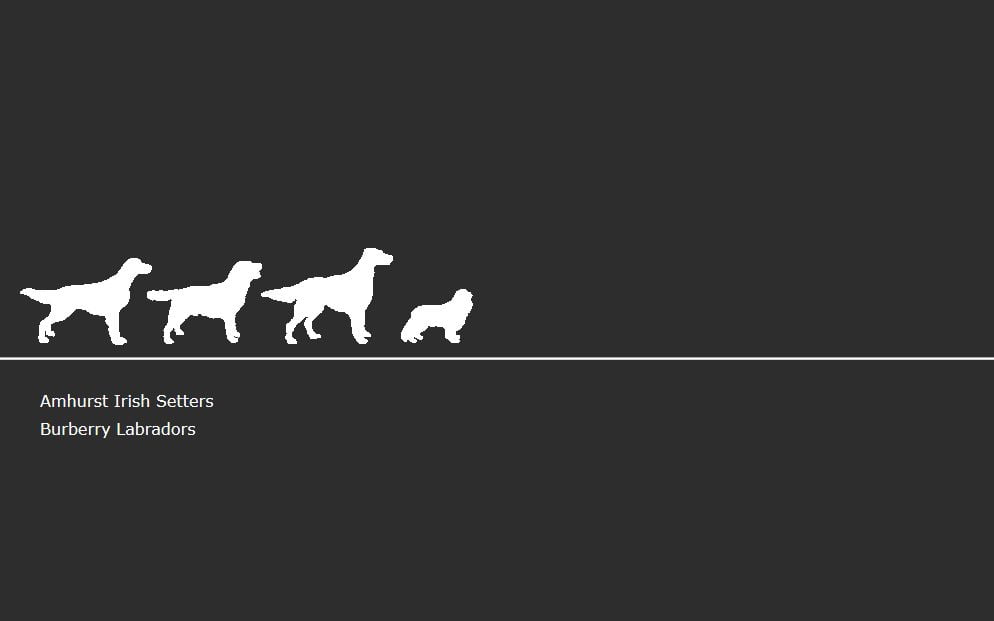 We started in Irish Setters and English Setters in 1971, with our first litter of Irish bred in 1974. That same year we imported Wendover Crofter, who was a son of the world famous, Eng. Sh. Ch. Wendover Gentleman and a litter brother to Eng. Sh. Ch. Wendover Colas. The following year, we imported our bitch, Wendover Jaquetta, and these two dogs were the foundation for Amhurst.
Crofter's first litter for us, out of our Australian bred bitch, produced the top winning Ch Amhurst Wimoweh and Ch. Amhurst Aaron, and in 1977 he and Jaquetta produced Amhurst Hifalutin who won her first MIS at the NSW Setter Club Champ Show, under Thelma Gray, UK.
Crofter arrived from England with Jenny Scott's Irish, Ch Sowerhill Keelta, who was a Sydney Royal CC winner, and these two produced Ch Jarradon Gamekeeper. Game won CC/BOB over his mother, under Michael Boothroyd from England, just a week after Keelta's win in Sydney. This was at Western Australia's inaugural Western Classic Show. He was just ten months old. In 1981, at just under three years of age, he won BIS at the Irish Setter Club of Victoria's Championship Show, over their biggest, and to this day, never surpassed entry of 240 Irish. The judge was Breed Specialist, Kitty Edmondson, of Crookrise Pointer fame. At this same show, Ch Amhurst Nightwing also went through in Show, herself a daughter of Hifalutin and a granddaughter of Crofter. Nightwing was also a BIG winner at the Perth Royal in 1982, and went on to Best IIS.
Game and Hifalutin went on to produce Ch Amhurst Jarasaigh, Supreme BIS at Perth Royal in 1986, under Mr Jacobs from Canada.
Over the years we have imported 3 Irish from the UK, and two from Sweden. Ch Copper's Prins Trollmane arrived from Sweden in 2004, and in 2005 he won BIS at the Irish Setter Club of Victoria's Championship Show, almost a repeat of the previous win, as Ch Amhurst Prinsessan Aniara also went through In Show, as Best Puppy. The judge was Breed Specialist from England, John Vant. This was only the third time we had competed at this prestigious event, for two BIS. At the second show, Ch Amhurst Ballybrogue, who later went to Sweden, had won Best Opposite Puppy in Show.
We have used a number of New Zealand Ballymoss stud dogs, who were all pure Wendover, tying in so well with the lines we already had, and thus making the Amhurst Irish almost 80 years line bred. Ch Wendover Fitzwillie lived with us for many years, and produced our beautiful Ch Amhurst HitchHiker.
I was lucky enough to source our beautiful, and latest import, Copper's That's It That's Me. Lupin duly arrived in 2009, in whelp to the top winning Copper's Prat Bubbla, himself a son of Eng. Sh. Ch. Caskeys Concept at Aoibheanne, England's leading sire. Sadly, just 30 hours prior to leaving quarantine, she started to prematurely whelp, and eight puppies in all were lost. However, we have brought frozen semen in from the same sire, and Lupin was recently inseminated.
To those many other Amhurst Irish Champions and dogs who have shared our lives here, we are eternally grateful for their part in making our lives so happy. Their quality is a constant reminder, that we are all just custodians of a breed, and it is our duty to always endeavour to do our very best for the breed.
I have judged in Sweden 11 times now, as well as judging Irish Setter Bitches at Bath Championship Show.
Nearly forty years in the breed sees us looking forward to the next 40!!