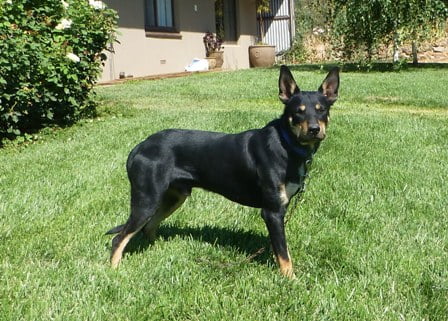 Stockmans Kelpie Stud was founded in 1981 using Scanlon and Glenville bloodlines.
Scanlons Fred, Scanlons Blue, Scanlons Pepper, Riana Fleet, Glenville Port, Kirkbys Kym, Wyomie Smokey and Leathams Meg, were the foundation dogs.
Later Stockmans Stud introduced new blood from Avenpart, Nearo and Karana studs through Avenpart Pepa, Avenpart Don, Karana Bindi, and Nearo Sky.
One of the foundation sires Scanlons Fred had a major influence on working Kelpies throughout Gippsland in Victoria and continued as an influential sire after he was purchased by the Scoriochre Stud for $2500 in 1984.
In 2006 the Stud was fortunate to be able to purchase Riana Meggie. This gives Stockmans Stud access to some great old bloodlines.
Stockmans Kelpies are well known for their all round ability and excellent temperament.
We only breed a limited number of litters each year from proven workers as we are seeking quality not just quantity. If they are not good enough for us they are not good enough to sell.
We are also aiming to source and help preserve some of the best old bloodlines within the Kelpie breed.
Recently Karana Gidgee and Riana Liz have been purchased to enhance our brood bitch team.
A share in Karrawarra Frank has given us the opporunity to bring in some Karrawarra blood which continues our line breeding back to old Kelpie bloodlines.
Stockmans Kelpies are selected using prioritized criteria.First is natural working ability, we look for dogs that have a good cast with natural distance off their stock yet the strength to come in and force when required, most of our dogs will back and force in the yards.
Secondly a friendly, wanting to please and trainable temperament is important.Then come the traits like stamina and conformation.Pedigree is important as it helps us to identify and breed from bloodlines which have been proven to contain the criteria we are looking for. Line breeding to these bloodlines means we can more reliably predict the outcome of our breeding program.